So yeah, I like to play some video games when the chance arises. Time was, I could happily manage a huge session lost to the latest release, but since starting my own business and becoming a dad, the "me time" ratio has dropped off quite sharply. Most of the time once I'm done with the spores and I've had some dinner, I'm fucking done for the day.
But! I've always been a sucker for anything with that unmistakable Dark Souls flavour (I missed out on Demon's Souls due to not owning a PS3 at the time and I didn't fancy trying to get a PS5 just to play the remake), so Elden Ring was something I was looking forward to. Previously to this, my favourite Souls game was Bloodborne, because it was this weird Lovecraftian nightmare that got progressively more weird as you went through it. Very existential. It affected me that much that I actually had genuine nightmares about it, which is my mark of something great – "fucked me up? Yeah man I'll have some of that". Apparently George RR Martin who pretends he's still writing Game of Thrones did some of the writing on this, but I'll be honest, you wouldn't be able to tell. It's just normal Souls stuff. Bad things have happened, they're still happening, you are a different kind of human to all the others around, and you have to go and kill things, a lot, until everything still goes to shit. That's not a spoiler incidentally, that's what all of the games are about.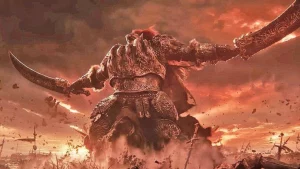 Elden Ring is fucking amazing. It's got all the other From Software stuff that I like (if anyone else is a fan, there's even an enemy that's just like Sif), with an open-world setting, and get this: the open-world stuff somehow isn't shit. Mind blown. I'm sick to the tits of Far Cry and Assassin's Creed and all the other tedious busywork simulators, because my life already involves me trying to source millions of tiny little collectibles for my spore prints, so there's no way I want to be doing that in my precious off-time.
I guess what I like about this sort of game (much like a decent psychedelic trip, if I'm honest), is that for the most part of it, I simply do not have a fucking clue what's going on. I'm just trying to get by. And then at some point all becomes clearer, I start to understand some of the mechanics, my character is a bit more powerful, and I can start enjoying it rather than being all tense. I'd never thought about it in any meaningful sense before this, but I guess these things live in a similar position in my brain. I like being confused, and then I like figuring things out. Makes me feel smart, I guess. Early game, I opened a random treasure chest, which then teleported me to a horrible cave full of weird bastard crustacean dudes that fucked me up, and when I escaped that, I was in some super dangerous mushroom landscape, which made me laugh because now I'm in this industry, I just seem to find mushroom related stuff everywhere. You can even get mushroom armour! The mycelium is calling…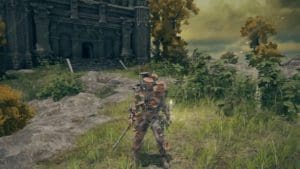 I think on the whole, I preferred Bloodborne's aesthetic, because rolling through a horrible Victorian-style hellworld with a massive cleaver and a shotgun was a fuckin' laugh, but on the whole Elden Ring is a better game. I'm some kind of magic using dude with a set of Freddy Krueger claws and it's cool. Also there's a horse and you feed the horse raisins. What's not to like about that?
The Souls games get a lot of shit for being too hard (they're not that hard, honestly) but Elden Ring isn't anywhere near as hard as any of the other games of it's ilk (I'm lookin' at you, Sekiro), because if you find a particular bit too tough and you've started trying to bite through your controller, you can just go somewhere else until you're either more skilled (not me) or have levelled up far more than you need to (probably me). Or you can just cheese the fuck out of things (100% me, if I can snipe them with arrows from a room that's too small for them to get into then I am fucking gonna). There's no judgement here buddy, you play the Souls games how you need to. What I'm saying is that You Should Buy Elden Ring. Buy it. Also don't vote Tory.
Cheers for now, have a good one! OTC